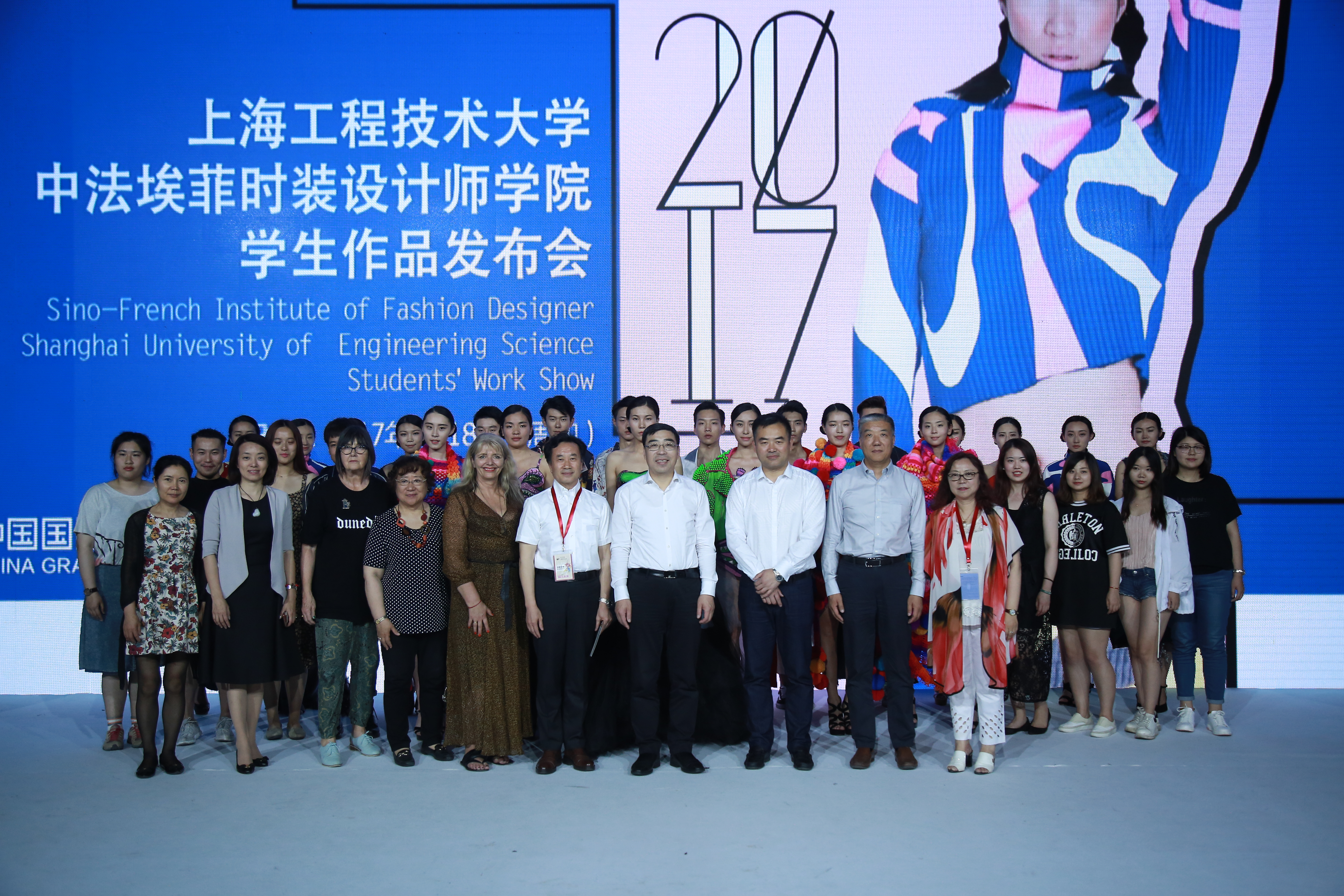 On May 18, works made by students from School of Fashion Engineeringand School of Sino-French IFA Institute of Fashion Designerwere exhibited at China International University Fashion Week. President Xia Jianguo and many domestic apparel experts attended the students' work release conference.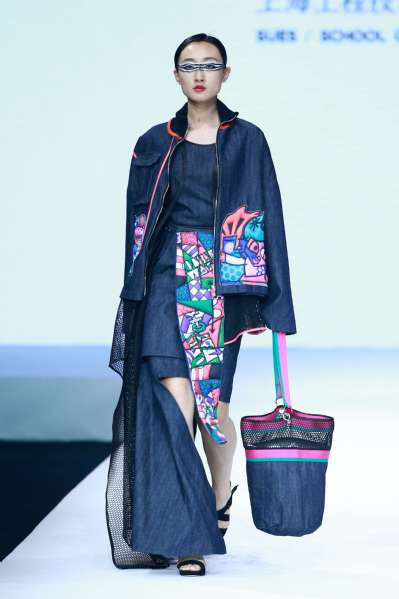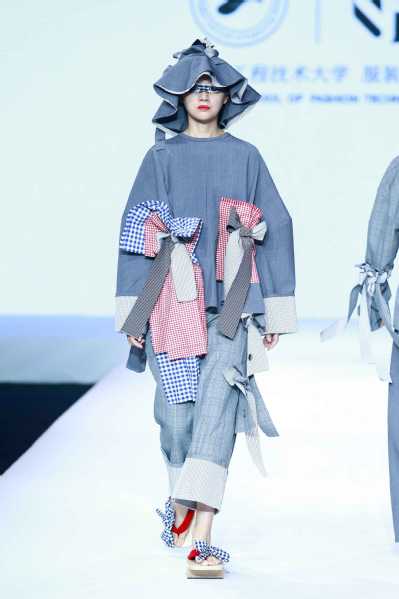 The following leaders attended the students' work release conference: Chairman of China Fashion Design AssociationZhang Qinghui, Vice Chairman Yang Jian, Xiong Zhaofei, Vice President of China Garment Association Yang Jinchun, Director of Member Department Zhao Yabin, President of Beijing Institute of Fashion Technology Liu Yuanfeng, General Manager of Shanghai Textile Group North Co., Ltd. Du Weiping, Director of Haining Talent Office Yu Minghong, Deputy Director of Trade and Industry Parkof Yunnan Baoshan Municipal People's Government Guo Shaokun, Deputy Director of Economic DevelopmentBureau of Baoshan Trade and Industry Park Management Committee Lan Yan, Deputy Manager of BaoshanBosheng Investment Management Development Co., Ltd. Zhao Zuyun.
2017 graduates from School of Fashion Engineering created 24 series and 71 sets of works with the theme of "Dimension•Transition". Starting from "Dimension•Transition" and feeling the shock by transition of multi-dimensional space, the graduates put their personal design thinking and attitudes into the works to express two-dimensional temptation to multi-dimensional the overlapping illusions. The theme "Dimension•Transition"consists ofthree sub-themes: trap into twodimension, multi-dimensional dizziness and dimension shuttle. In the process of graduation design, teachers focus on exploiting each student's own characteristics, so that they could put their personal feelings into the works; while guiding the students'design, teachers instructed students to thinkabout the meaning and value of each workrather than blindly design the work. Beginning with market research, crowd analysis and style & type craft at early stage, the students completed the analysis of the industry, market conditions and design trends. They experimentally made various attempts involving materials, modeling, color, etc., and fulfilled the entire process from source of inspiration, design research, thinking extension to the experimental production and fashion show.
Each student constantly tried the relationship betweenconstruction and deconstruction of clothing, and they made a variety of experiments involving material, modeling, color, etc. so as to demonstrate in an all-round manner their undergraduate learning achievements with the specialty of clothing art and engineering, their valuable exploration in the aspect of fabric innovation and clothing Design creativity. Therefore, they showed to the public the works which are also teaching results through teachers and students' joint efforts.
It is the third time that Sino-French IFA Institute of Fashion Designerhas been invited to participate in China International College Students' Fashion Week. In 2013, the School gained "Talent Training Achievement Award" and "Market Potential Award"; in 2015 the School gained "Talent Training Achievement Award".This year the School hoped to take this opportunity to communicate with the domestic fashion colleges about design concepts, discuss fashion teaching models and show its teaching results to the fashion industry.
Chairman of the China Fashion Designers Association Zhang Qinghui, Vice Chairman Yang Jian, President ofBeijing Institute of Fashion Technology Liu Yuanfeng, senior clothing designer of China Fashion Designers Association and winner of Chinese Clothing Meritorious Character Medal Li Xin, Professor Margo Barton from School of Fashion Design of New Zealand Otago Institute of Technology were invited to visit the exhibition venue.
With the theme of"DREAM BAZAR", the works of the students from the School depictan ideal half true and half illusory utopian world; such works also depict a world of co-existent fusion and opposites and co-existence of mixture, changeability and contradictions. In their works, there existunrestrained creative ideas, all-inclusive inspirations and colorful garments. The student designers used their clothing language to interpret their understanding about the theme, review the present trends, lookforward to the future trends and show the expressive and creative fashions. By combining the originalFrench-style three-dimensional cutting,ingenuous fabric modification techniques and superb sewing process, they made the entire T station bloomthe beauty of integration.It is worth mentioning that the works released at the conference include not only graduation works but also routine international exchange projects, university-enterprise cooperation projects, assignment works under the project teaching. Being required to be different from the traditional thematic design, the students of the School are asked to make design based on the market demand, interpret the fashion trend, foresee fashion hot spots and demonstratea variety of design styles, including: unique personality of the street fashions, wearable art style and elegant classic style.
The two work release conferences fully demonstratesthe teaching results of SUES in the field of clothing design teaching results. SUES is committed to cultivate morehigh-endcompound clothing talents with international vision, unique personality and innovative design capabilities, so that it can output new talented graduates to the Chinese high-level garment industry.