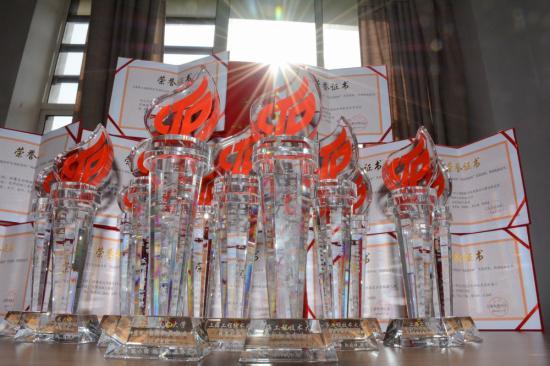 The awarding ceremony of The 21st Shanghai College Students Inventions "Kechuang Cup" was held recently. The TMR-magnetic-sensor-based online monitoring system of intelligent high voltage switch cabinet (developed by Lu Chengcheng Team from School of Mechanical Engineering) won the first prize of the "invention and innovation" awards; the human face recognition system applied in the medical care industry (developed by Cheng Jing Team from School of Mechanical Engineering) won the second prize of the "invention and innovation" awards; in addition, 11 teams of our University won the third prizes.
The College Students Invention and Innovation Awards were set by Shanghai Invention Association in 1995. The current "Kechuang Cup" Awards have "Invention and Innovation Projects" awards and "Invention, Innovation and Entrepreneurship" awards; these awards are designed to inspire and encourage Shanghai college students to make inventions and innovations and develop their practical research ability; the scientific and technological achievements of college may be transformed into productivity by setting up an enterprise or through entrepreneurship incubators, thus the college students can realize their blue ocean dream of "cocoon into butterfly".
Thousands of students from Fudan University, Jiaotong University, Tongji University and other prestigious universities submitted their scientific works for selection. Students from various schools of our University also actively submitted their inventive works to participate in the selection. The participating students said that this award event stimulated the enthusiasm of college students in making inventions and strongly promoted application of knowledge; they hope to have more opportunities to participate in such contest and actively dedicate themselves to the innovation practice of engineering science so as to cultivate innovative awareness and enhance Teamwork spirit.