On March 1, SUES president Xia Jianguo, vice president Wang Yansong and heads of the relevant departments and colleges went to Jiangsu Juibo Robot Technology co., LTD.for a signing ceremony of strategic cooperation and communication.Sun Lining, the honorary chairman of Jiangsu Huibo RobotTechnology Co., LTD., Kong Fanhe, founder and chairman of the board of directors, presidentWang Zhenhua, vice president Cui Xiaohui, Chen Guodong, president assistant, and general manager of engineering technology center, the president assistant Ma Mingjun, and Zhang Ming, executive director of Huibo Institute of Robot and heads of related departments attended the signing ceremony of strategic cooperation and communication.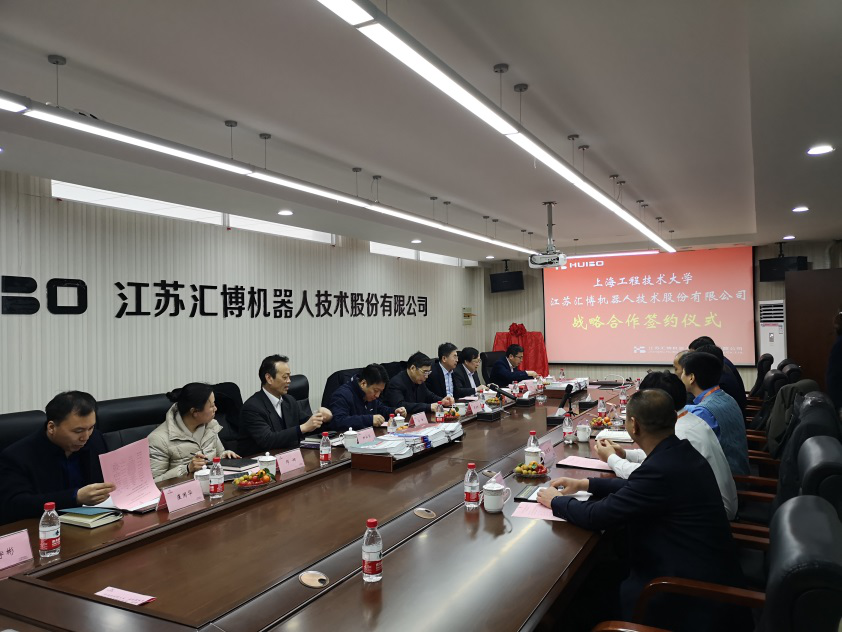 President Xia reviewed the process of university-enterprise cooperation between SUES and Jiangsu Huibo and expressed his gratitude for its strong support for the SUES's reform and development. He noted that Huibo was chosen by SUES administrators to be the first non-shanghai partner to visit shortly after the start of the new semester, thus demonstrating the importance of strategic cooperation between the university and enterprise. He introduced many historic breakthroughs and achievements made by SUES in its reform and development in 2018, and attributed them to its philosophy of running a university through cooperation between enterprises and universities for its own development. He stressed that in 2019, SUES will focus on the goal of building a first-class application-oriented university in China, the the four tasks and the application of doctoral programs, so as to promote the construction of a high-level application-oriented university. He put forward three hopes for SUES and Jiangsu Huibo to further in-depth cooperation:Firstly, on the basis of common interests, values, responsibilities and development, we should build a community of shared future of comprehensive strategic cooperation between universities and enterprises.Secondly, based on the characteristics and advantages of both parties, both sides will cooperate deeply in such aspects as big teams, big platforms, big projects, big topics, big funds and big awards to facilitate SUES to achieve better transformation and development.Thirdly, on the basis of implementing the signed cooperative action plan, we will continue to focus on supporting the application of doctoral programs, fully participate in the target construction of application-oriented characteristic universities of high-level modernization projects, undertake skill competitions, professional construction of artificial intelligence and robots and personnel training and other aspects of in-depth cooperation.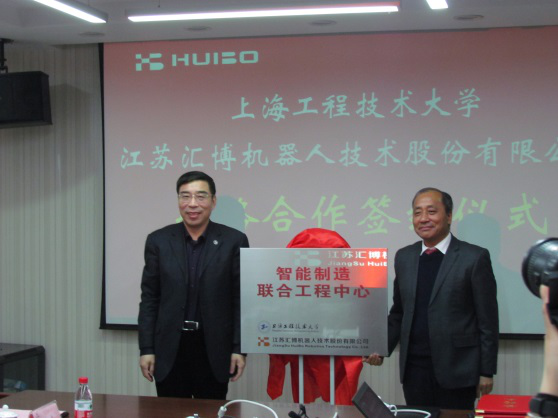 President Xia Jianguo, together with professor Sun Lining, founder of Jiangsu Huibo unveiled the Joint Engineering Center of Intelligent Manufacturing and presented SUES students' works as gifts to professor Sun. Vice president Wang Yansong and president Wang Zhenhua signed the strategic cooperation agreement between the university and the enterprise.
Fang Yu, president of the School of Mechanical and Automotive Engineering, and Chen Guodong, general manager of Huimbo Engineering Technology Center, signed the 2019 action plan.At the signing ceremony, the two sides had a full exchange of ideas on cooperation declaration of national key research and development plan in 2019, cooperation in building an intelligent manufacturing platform and jointly undertaking the G60 Technology Innovation Corridor high-quality worker labor skill innovation competition in 2019.
Before the meeting, leaders of both sides visited Jiangsu Huibo Exhibition Hall, Jiangsu Huibo Robot Institute and Jiangsu Huibo Research and Developent and Production Building.