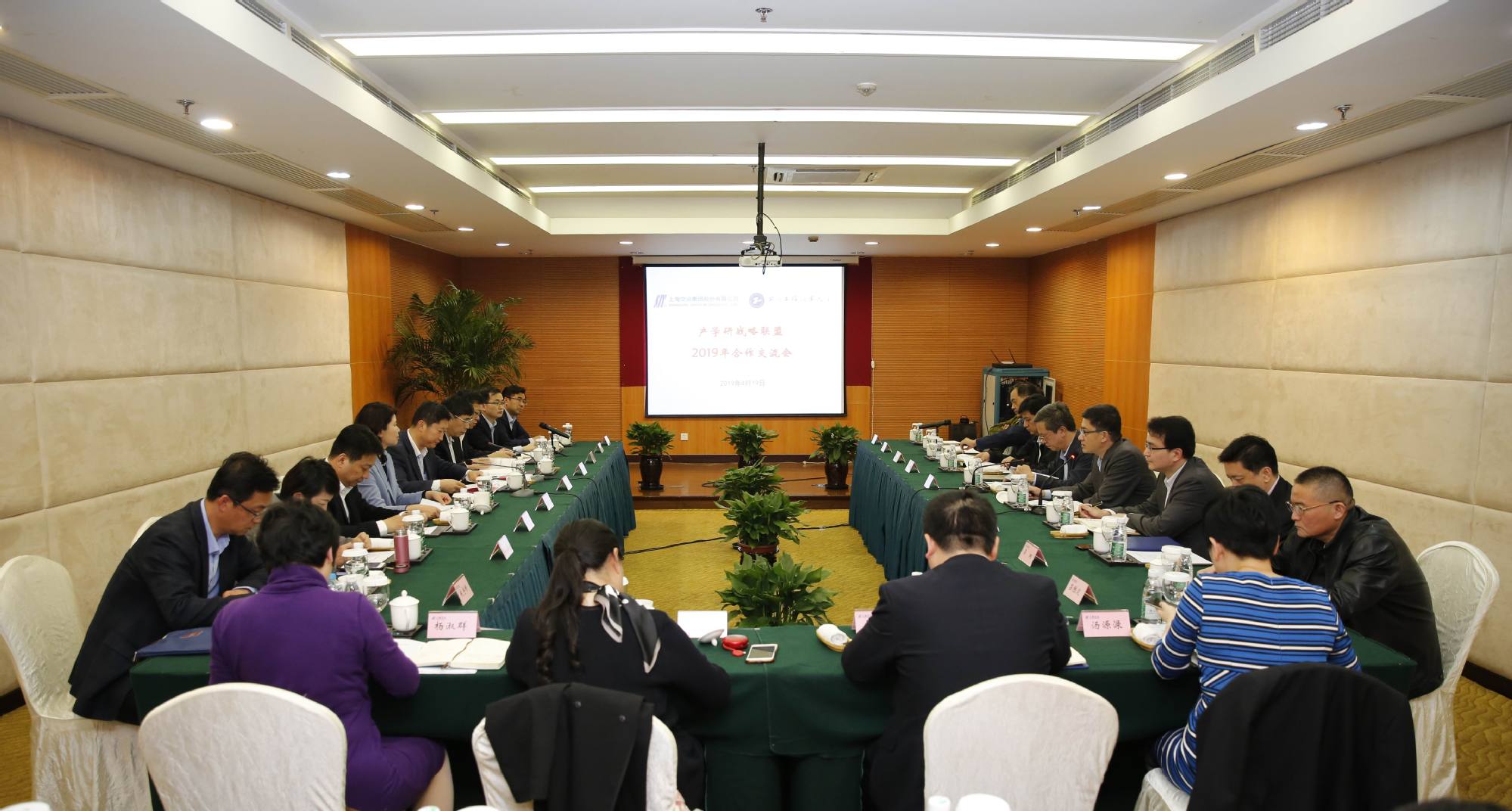 On April 19, Party Secretary of SUES Li Jiang, Deputy Secretary and President of SUES Xia Jianguo, Deputy Secretary and Vice President of SUES Zhu Xiaoqing led deans and directors of relevant departments and schools to pay an exchange visit to the industry-university cooperation partner Shanghai Jiao Yun Group Co., Ltd. Party Secretary and Chairman of Shanghai Jiao Yun Group Zhang Liangren, Deputy Party Secretary and President Zhu Jimin, Vice President Chen Hongpeng and heads of relevant departments and subordinate enterprises attended the exchange meeting. The two sides conducted in-depth discussions, reached consensus and exchanged views in a friendly atmosphere. Deputy Party Secretary and President of Shanghai Jiao Yun Group Zhu Jimin presided over the meeting.
Party Secretary of SUES Li Jiang expressed his gratitude to Shanghai Jiao Yun Group for its long-term support and help for the development of SUES. Secretary Li Jiang pointed out that the cooperation between SUES and Jiao Yun Group had a long history with practical and effective cooperation mechanism as well as ever-upgrading cooperation levels. The two sides continue to deepen industry-university cooperation, focus on issues including development goals, key tasks, and scientific research, and solidly promote the deep integration and coordinated development on various aspects including platform construction, personnel training and project cooperation. In the new era of transitional development, both sides should explore innovative cooperation models as well as strengthen and deepen strategic cooperation. With the increase of talent introduction force in the university, new research equipment is put into use and teachers' research ability is continuously improved. The two sides have a broader space for cooperation. It is hoped that on-campus collaboration can be strengthened to integrate scientific research resources and strength, which will make greater contributions to technological upgrading and innovative development of the enterprise.
Zhang Renliang, Party Secretary and Chairman of Shanghai Jiao Yun Group Co., Ltd., extended a warm welcome to SUES leaders for their visit. He pointed out that the second party congress of Jiao Yun Group proposed "level improvement and innovative development" as the underlying principle, firmly holding the overall strategy of large scale, intensification, differentiation and integration, and sticking to the overall direction of the high-quality leap-forward development of the economic model as well as the low-end to middle-and high-end shift of the industrial value chain. Enterprises may decline but the industry will not. Jiao Yun Group attaches great importance to the industry-university cooperation with SUES and needs technology and talent advantages of the university for technical support. The two sides can maximize their advantages and achieve mutual benefit. With many areas of and a huge space for cooperation, the two sides can continue to cooperate, enhance friendship, and promote the industry-university cooperation to a new level.
President Xia Jianguo reviewed the development of SUES in 2018. He pointed out that SUES consistently oriented itself to the demand of enterprise, seeking support through contribution and seeking development through service. The development of SUES is inseparable from the support and assistance of strategic partners including Jiao Yun Group. The new era and the new journey of cooperation calls for new cooperation platforms, projects and achievements. It is hoped that the two sides will establish a industry-university cooperation community, truly realize mutual interests, emotional resonance, value consensus, win-win development and shared responsibility, and promote the construction of large teams and platforms, the development of important projects, the obtainment of funds and the application for major awards.
Zhu Jimin, Deputy Party Secretary and President of Shanghai Jiao Yun Group Co., Ltd., on behalf of the company, expressed his gratitude to SUES for delivering outstanding talents to Jiao Yun Group over the years. With the rapid development and integration of Shanghai Jiao Yun Group, the demand for talent resources and technology support will continue to increase. The cooperation between the two sides will move forward and their friendship will last forever.
Director of the Student Affairs Office Zhu Bei, Dean of the School of Management Hu Bin, Associate Dean of the School of Mechanical and Automotive Engineering Qian Yubin, Professor Yang Shuqun from the School of Electric and Electronic Engineering, General Manager of Manufacturing Branch of Jiao Yun Group Sun Xinyi, General Manager of Auto Repair Company Wu Jiang also exchanged their views.