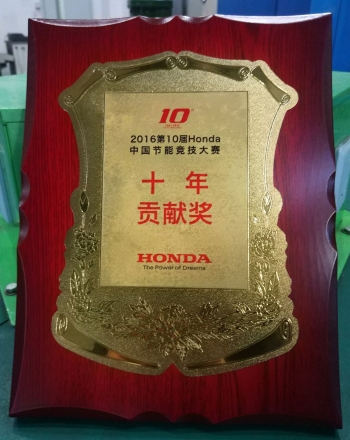 At the recently-ended 10th HONDA China Energy-saving Competition, SUES has won Ten Years Contribution Award from Honda Automobile (China) Co. Ltd. together with Tongji University, Beijing Institute of Technology, Xi'an Jiaotong University and other famous universities. This award aims to encourage college students' innovation and award the universities for their excellent contributions to China's energy-saving automotive technology.
Since the Competition was established in 2007, HONDA has held the Competition for ten times. During the past ten years, accumulatively more than1200 teams and nearly 6,500 people have participated into the event. Under the great support of our university, Longteng Racing Team (EP Division) and Huyao Racing Team (EP Division) from the School of Automotive Engineering have participated in the Competitions over the years. More than 500 students experienced the event and 20 teachers guided the teams. In 2015, our university's team gained first in the Electric Motor Division and gained sixth in Fuel Vehicle Division. With the competition as a platform, our university has cultivated a batch of high-quality automotive engineering professionals who work diligently to enhance manipulative ability and are willing to study innovation; by creating the racing vehicle and participating in the Competition, our university has shaped a positive and striving innovation team. The team has won May 4th Youth Collective Prize at the municipal level and the university level. Several students have been awarded in the municipal and national competitions.
The racing team members expressed their gratitude to the University for their strong support and financial aid to the innovation activities, to the teachers of each School for their great assistance and guidance and to the students for their dedication the team. They have confidence in building the energy-saving racing car into a name card of SUES for its cultivation of high-quality innovative engineering talents.