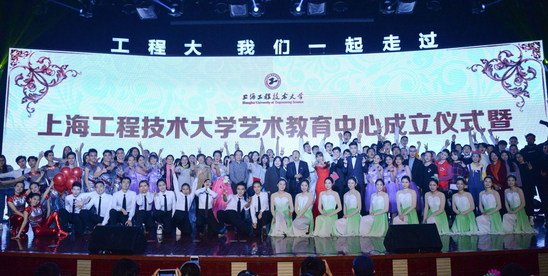 In recent days, the Art Education Center of SUES has been established. Party Secretary Li Jiang and Vice President Yao Xiuping of SUES attended the inauguration ceremony; and they, together with students, watched the wonderful performance given by the dance troupe, choir, drama troupe and other art groups.
At the inauguration ceremony, Our University hired Director of the Creation Center of Shanghai Theater Academy, Doctoral Tutor & Professor Lu Jun, Vice Chairman of China Choral Association & Chairman of Shanghai Chorus Association - Professor Wang Yan, and Chief Actress of Shanghai Song and Dance Troupe & National First-class Actor Zhu Jiejing as external art consultants of our University. Party Secretary Li Jiang, Vice President Yao Xiuping and the art consultants jointly pushed the bar for initiation of the Art Education Center; and Vice President Yao Xiuping issued Letters of Appointment to the external art consultants .
Art education is both an important part of quality education and an effective means to carry out ideological and political education for college students. In order to better improve the level of art education in our University and give a full play of arts training in talents' education, SUES decided to set up the Arts Education Center as an sector mainly implementing the art quality education. The Arts Education Center will strive to achieve the modernization, popularization and perfection of arts education, and comprehensively promote great advancement and prosperity of art education.