During the winter vacation, some students who returned to their hometowns participated in voluntary services for epidemic prevention and control in their hometowns. They shuttled between the villages and community buildings to promote epidemic prevention and control knowledge, full of vitality and warmth.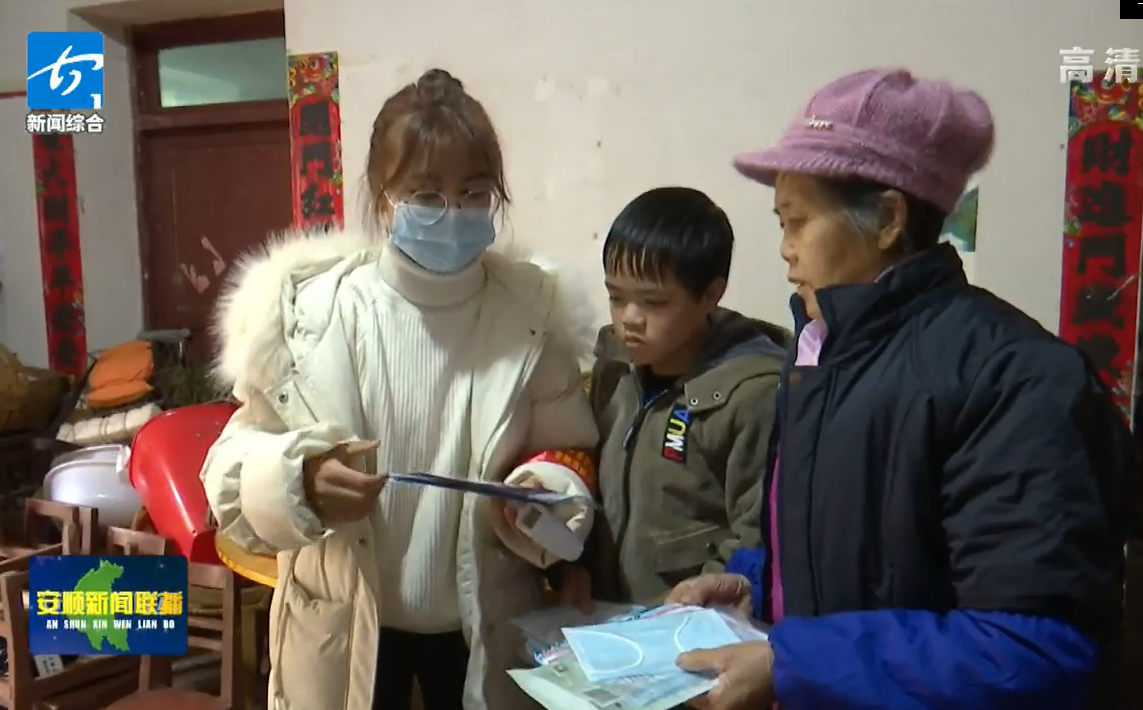 A student, Yang Lan, from the School of Electronic and Electrical Engineering lives in Yelangdong Village in Guizhou Province. On January 26, when she learned that the village committee was going to form a volunteer service team in Yelangdong Village, she immediately signed up for it without hesitation. After pre-job training, she officially started on January 29. She and her companions brought armbands, masks, temperature guns and other epidemic prevention materials, and distributed epidemic prevention brochures door-to-door to publicize epidemic prevention and control knowledge, policies and regulations to the masses. The main targets of this volunteer service were left-behind children and empty-nest elderly people. Yang Lan would give them masks, take their body temperature, and teach them how to wear masks correctly in Bouyei language, and explain the seven-step handwashing method and COVID-19 patients. Yelangdong Village is a Buyi village. Most elderly people do not understand Chinese Mandarin well. Yang Lan spoke Buyi language and patiently communicated with the elderly and children. In an interview with a local TV station, Yang Lan proudly said: I hope that through this volunteer service, I can truly turn myself into a small fire, warm the villagers in my hometown, and do my part for the society. At the same time. As a college student, I hope to call on people around me to join in the epidemic prevention action.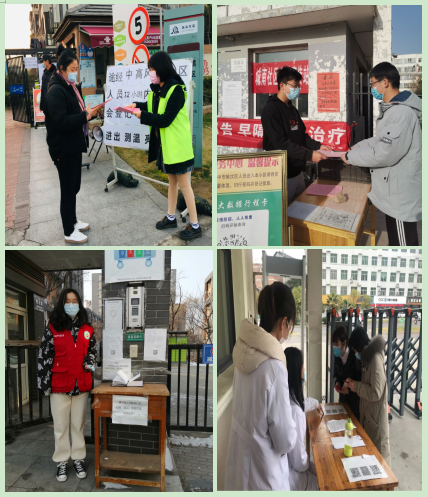 Some Communist Party member and activist students who majored in Environmental Engineering in the School of Chemistry and Chemical Engineering also actively participated in voluntary service activities for epidemic prevention and control in the streets and communities. Jin Yitong, a former CIIE volunteer who returned to his hometown, actively signed up to be a volunteer , and served as a door-to-door inspection work for 24 buildings in his community. Zhang Shuo, complied with the seven-day home quarantine policy for epidemic prevention and control in the hometown. After the quarantine period expires, he immediately signed up for community duty card volunteers, and carefully checked and registered passing vehicles and personnel with the neighborhood committee staff to help the community to prevent and control the epidemic. Shao Xinyi, a student enthusiastic in public welfare, participated in the Zhuxi Volunteer Service Team of the community, taking on the tasks of community civilization persuasion, epidemic prevention and control promotion, and resident information verification. When Zhou Yang returned to his hometown and learned about the recruitment of epidemic prevention volunteers from the local CDC, he immediately signed up and undertook tasks such as temperature measurement, checking health codes, registering basic information, and providing consulting services for personnel entering the hospital.
If the younger generation has ideals, capabilities, and responsibilities, the country will have a future and the nation will have hope. In the critical period of the fight against the epidemic, SUES students responded to the call of the Communist Party, grew into talents in the practice of epidemic prevention and control, and demonstrated full devotion to the Party and the people.