During the special lockdown period in spring 2022, the teaching team tutors at SUES not only give their students careful guidance for their academic achievements, but also actively guide them to strengthen their confidence in fighting against the epidemic. At the same time, these team tutors objectively and scientifically help their students learn the basic knowledge about the epidemic. There emerged a group of outstanding tutors and teaching teams who adhere to the student-centered teaching style and devote their hearts and efforts to their students' learning and well-being.
I. Adhere to the Position of Teaching and Cultivating College Students via Cloud Guidance and Supervision
Since she left the campus on March 11th , Gu Ying's work position of School of Air Transportation has shifted from offline to online, becoming a mentor online, adhering to the daily online guidance and online supervision. Taking the graduation design as an example, Ms. Gu adheres to high standards and strict requirements and adopts the method of general instruction + personalized guidance to guide students to complete their thesis. The general instruction is aimed at the common problems of students' papers, such as the structure, writing ideas, and the format, etc. Gu provides such help for her students in the online group chatting via the WeChat App. Personality guidance is a detailed annotation of the problems existing in each student's paper, and then a modification plan is proposed by texting messages or sending voice messages via the WeChat App. For those who submitted poor quality drafts, Gu makes clear requirements and asks them to re-write their drafts. For those who submited good quality drafts, Gu asks them to conduct further revision many times till the paper meets the standards for graduation thesis.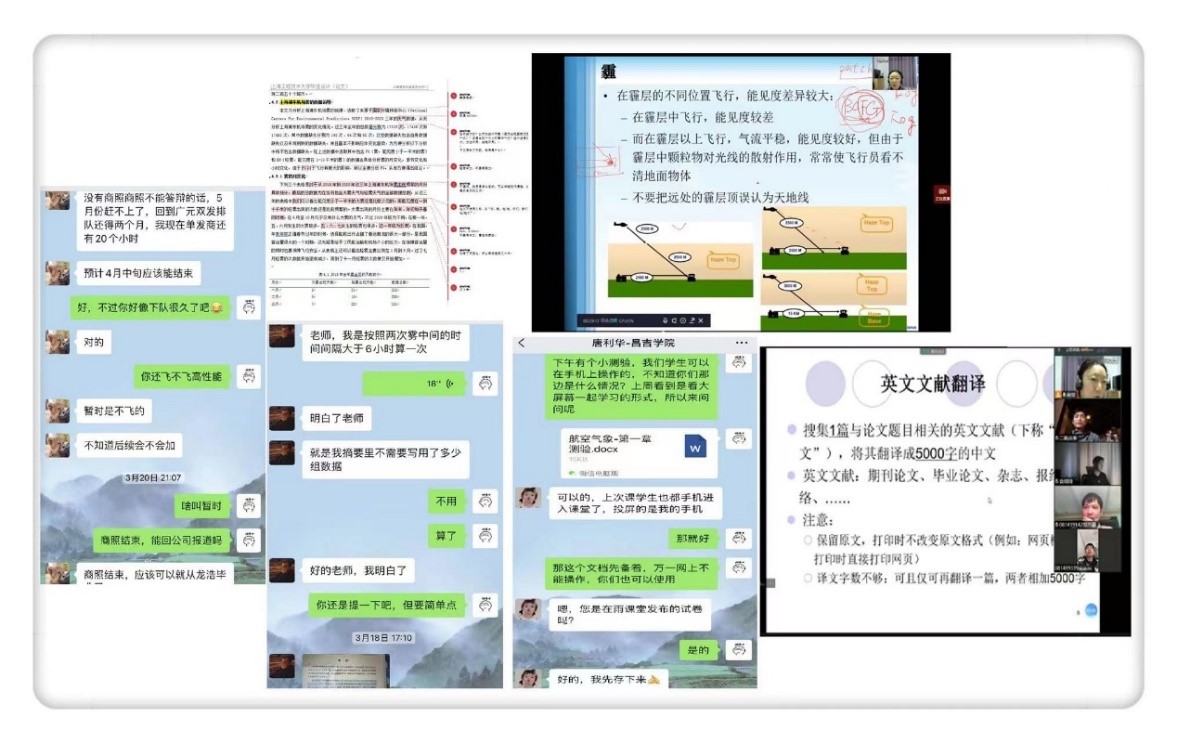 II. Promote Learning with Competition to Help Students Develop in All Aspects
Recently, Ms. Zhao Haiyan, teaching in the School of Management Studies, conducted online tutorials for her students who attended the 2022 national university students' innovation training project. She helped students to form clear ideas at the beginning of the project in order to smoothly promote the implementation of the project.
In the recent 12th National College Students E-commerce Innovation, Creativity and Entrepreneurship Challenge On campus selection competition, Zhao's students won the second prize and will continue to challenge the municipal level. To this end, Ms. Zhao organized two online guidance activities. The first time mainly focused on the production and optimization of student report PPT. The second time mainly focused on the presentation skills for reporting PPT. Ms. Zhao hopes that through these tutoring and competition experiences, her students will cultivate their sense of innovation, innovative thinking and teamwork spirit.
III. Find Fun in Innovation and Mitigate the Impact of the Pandemic
Liu Shannan, a college professor majoring in railway engineering, always reminds students to protect themselves, ensure their own safety, and ensure their normal learning and life. And at the same time, he encourages them to maintain a positive attitude toward the COVID-19. One of his students lives in Pudong and one day this student was asked to stay in the Fang Cabin Hospital because of the infection of COVID-19.Professor Liu provided this student with a lot of comfort and encouragement. Together with the cheers and help from the classmates, this student attended classes on time when he was in the Fang Cabin Hospital and he also performed very well in class.
Professor Liu used the weekend time to organize the students to hold a number of video conferences. One was those wonderful designs around, and he asked everyone in class talked about the clever designs in their minds. His students talked about a lot of wonderful things, such as air umbrellas, interactive desks, shark wheels and so on. He hopes that through such discussion, his students will be willing to think and find fun in innovation. For the upcoming exam week, Professor Liu asked each student to pick up one course from his or her class schedule, summarize the knowledge system and difficulties of the course, and then perform a presentation to his or her classmates. Through this process, professor Liu helps his students learn to digest the knowledge they have learned, and at the same time they are able to express their ideas confidently in public and grasp the corresponding skills.
During the lockdown period, a large number of professors have effectively shouldered the responsibility of working as a model for their students and led their students to go through the difficulties together. For example, Huang Liliang, a professor at School of Chemical Engineering, has been communicated with his students in a timely manner, grasped the situation and met the needs of students' daily necessities to the greatest extent. Zhang Yan, a professor at School of Material Engineering, has been timely communicated with students and their parents about their lives during the lockdown period either at home or on campus. In so doing, Zhang realizes the plan of students' healthy growth both at home and on campus.
Dr. Li Yonghe, working at School of Textile and Fashion, allocated resources in a timely manner to solve the practical problems of students' online teaching. Dr. Ning Shujia, working at Sino-Korean School of Multimedia Design, insisted on carrying out competition activities, trying new competition models during the lockdown period, and focusing on the cultivation of students' innovation ability. Dr. Fang Tao, working with many other professors at School of Mathematics, Physics & Statistics, answered students' questions through the tutoring of the high number examination. In this way, Fang and his colleagues not only diverted their students' anxiety but also escorted their high number examination. Dr. Ma Dezhong, working at School of Foreign languages, showed special cares for the international students and organized discipline competitions, and enriched these students' lives.